ISM Recruitment – Junior Research Fellowship Vacancies – Last Date 12 May 2017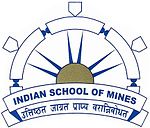 Indian School of Mines (ISM) recruits Junior Research Fellow Posts. M.Sc, M.Tech, GATE/NET qualified, Graduate, M.Phil, Ph.D, B.Tech experienced candidates can apply.
---
About Indian School of Mines
The Indian School of Mines (ISM) धनबाद एक शैक्षिक संस्थान है। यह भारत में धनबाद के शहर में की खनिज संपन्न क्षेत्र में स्थित है। इसे ब्रिटिश भारतीय सरकार द्वारा खान-लंदन के रॉयल स्कूल की तर्ज पर स्थापित किया गया था और 9 दिसम्बर १९२६ को भारत के तत्कालीन वाइसराय प्रभु इरविन द्वारा औपचारिक रूप से खोला गया था। यह खनन शिक्षाका एक संस्था के रूप में शुरू कर दिया, और विभिन्न विभागों के साथ एक तकनीकी संस्था हो गया है ।
The Indian School of Mines (ISM) Dhanbad is an educational institute of India. It is located in the mineral-rich region of India, in the city of Dhanbad. It was established by British Indian Government on the lines of the Royal School of Mines – London, and was formally opened on 9 December 1926 by Lord Irwin, the then Viceroy of India. It started as an institution to impart mining education, and has grown into a technical institution with various departments.
Website Address
–
http://www.ismdhanbad.ac.in/
Office Address
– Indian School of Mines, Dhanbad, Jharkhand-826004, India
For more Government jobs, Please visit
www.sarkarinaukridhaba.blogspot.in
) before 17th February 2017." generalinstructions="The date of interview will be intimated later. No TA/DA will be paid to the candidates, if called for interview." qualifications="Candidates should be M. Sc. in Chemistry / Applied Chemistry with minimum of 60% marks from UGC recognized University/Institute with valid NET/GATE score. " dateposted="02/17/2017″ street="Dhanbad" state="Jharkhand" postalcode="826004 " url="https://ismdhanbad.ac.in/openings-jrf/view.php" pdfurl="https://ismdhanbad.ac.in/openings-jrf/admin/jrfdocuments/2017-2-17%2017:12:46_Advertisement%20for%20JRF-website.doc" ]
[/accordion-item]
[/accordion]